Our new game "Does Not Commute" is finally out on the App Store and Google Play! The game is free to download, so give it a try and tell us in the comments what you think!
Does not Commute is a temporal paradox in which you have no one to blame but yourself. What starts out as a relaxing commute in a small town of the 1970′s quickly devolves into traffic chaos with hot dog trucks, sports cars, school buses and dozens of other vehicles. You drive them all. Plan ahead. Don't be late.
Watch the new release trailer for our upcoming mobile game "Does Not Commute"! The game is set to release next week and is a strategic driving game. Share the video with your friends and tell us in the comments what you think! Follow us on Twitter and Instagram for more instant updates about our games.
Watch our brand new teaser trailer for our next game! The game is set to release for mobile this spring and will showcase some very exciting gameplay we haven't tried before. Don't forget to follow our Insta If you want to get behind the scenes of our development.
We're incredibly happy to share with you that Smash Hit is selected by Apple to be included in the App Store Best of 2014! This is such a great honor! Overall this year has been a very exciting one, and Smash Hit has broken all our previous records and expectations.
A big thanks to all who took their time to play Smash Hit, who shared it with their friends, liked our Facebook page or reached out to us on Twitter. Thank you Douglas Holmquist for perfecting the game with your awesome music. A big thanks to all players who took the time to share feedback and write reviews! Without you all this wouldn't have been possible!
Remember to check out all the App Store Best of 2014 games for your iPhone or iPad.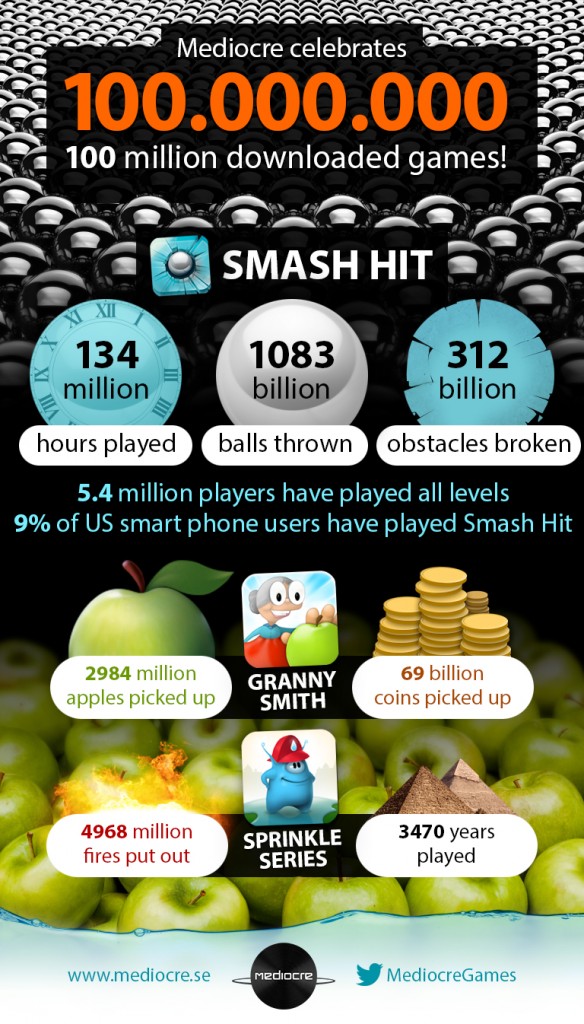 As of today we can proudly share with you that our games have been downloaded (at least) 100 million times! This is huge, almost too big to fully comprehend! To help you grasp what this means in numbers we've put together a small infographic for your viewing pleasure. Feel free to pass it around or share it with your friends.
The majority, around 70% of the downloads, are from our latest game Smash Hit. The Sprinkle series are approximately 20% and Granny Smith 10%, so it's safe to say Smash Hit has indeed been living up to its name! We're also thrilled to see that 5,4 million players actually made it to the endless mode of the game.
We're still determined to stay small and focus on projects that we enjoy working on. Staying small also allows us to do games that are just fun and enjoyable, without any financial pressure to monetize our games aggressively in order to maintain our studio.
To celebrate all of this we're throwing a party for our friends this Friday. Let's hope we remember to snap some photos and maybe we can share them with you later on.
A big thank you to all of you who have downloaded and played our games. Without you this wouldn't be possible!